Our Digest of Global Feminist News and Opinion
Lead Story
(Photo Credit: Latin Post/Flickr/Gaelx)
Pussy Riot members Nadya Tolokonnikova and Maria Alekhina are to be freed three months early in light of a new Russian law which grants amnesty to prisoners "who haven't committed violent crimes…and women with small children."
Middle East
Syria's first-ever all-female municipal police unit allows women to push past the barriers of a highly patriarchal society and challenge local expectations that women are weak.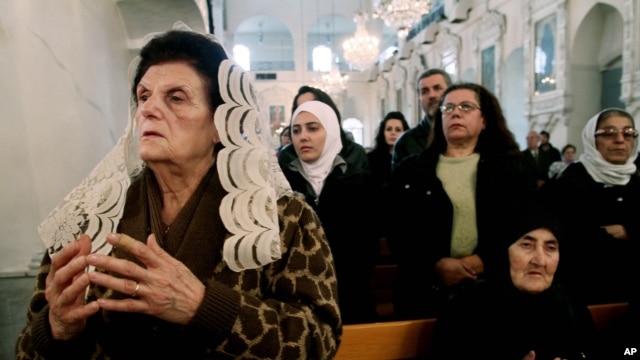 (Photo Credit: Associated Press)
This firsthand account of a so-called kidnapping of Greek Othrodox nuns by Syrian troops claims the nuns left willingly and are eating chicken while the troops survive on only dates and water.
Asia
Indian gay activists challenge (as Sonia Ghandi, President of the ruling Congress party calls it) an "archaic, unjust" 153-year-old colonial law which criminalizes homosexuality, but the Supreme Court says it's up to Parliament to change the law.
Europe
(Photo Credit: Mikhail Mordasov)
Young ballerinas of Abkhazia, the disputed, war-torn republic between Russia and Georgia, represent hope for a new generation. 
In response to Spain's strict new anti-abortion law, which allows it only in cases of rape or in light of a serious health risk to the mother or fetus, one thousand people burned an effigy of Justice Minister Alberto Ruiz-Gallardon, who said the "change was necessary."
Africa                       
A new, horrifying Ugandan law—meant to deter Western homosexuals from "recruiting" Ugandan children—sets life imprisonment as the maximum penalty for homosexuality.
The Americas
Plan B has been found to be 100% efficient only up to 165lbs, though 1 in 2.6 American women of childbearing age (7.9 million women), weigh 165 pounds or more; there is no warning label on the Plan B box.
(Mark Blinch/The Canadian Press via AP)
The Canadian Supreme Court strikes down prostitution laws that criminalize sex workers, recognizing sex workers have the right to protect themselves and their safety.
Ayaan Hirsi Ali, a Somali-Dutch writer, takes a controversial stance on multiculturalism in the US. "The mystique of multiculturalism," she says, "must be intelligently tweaked" to stop forced marriages, female genital mutilation, and honor killings.